Event Summary
The Dougherty Art Center presents Art-O-Rama! This one-day juried art festival connects fine artists with the community. Meet and shop local artists, sample art techniques both new and known through artist demonstrations, and enjoy hands-on art activities for all ages.
Art-O-Rama will be held on the grounds and inside the Dougherty Arts Center. Considered the Heart of the Arts in Austin, The Dougherty Arts Center is the City of Austin's oldest community arts center. Centrally located in downtown Austin, the Dougherty is surrounded by Butler Park, the Ann & Roy Butler Hike and Bike Trail, Zilker Park and Barton Springs, and various restaurants and attractions.
Mission
The mission of the Dougherty Arts Center (DAC) is to support emerging through established artists who create, showcase, and experience the arts first hand. We envision the DAC as Austin's cultural living room where people of all ages, races, ethnicities, abilities, genders, sexual orientations, socio-economic statuses, nationalities, and religions gather to create community through the arts.
Event Contact Info
www.austintexas.gov/dac
dacinfo@austintexas.gov
512-974-4000
Dougherty Arts Center
1110 Barton Springs Rd
Austin, TX 78744
Show Date and Hours
Saturday, May 23, 2020
12:00-8:00pm
Media Categories
The Dougherty Arts Center welcomes art exhibitors in the following categories:
· 2D: Painting, Watercolor, Oil, Acrylic, Drawing, Pastel, Photography, Mixed-Media, Printmaking, Digital, Other
· 3D: Sculpture, Wood, Metal, Ceramics, Fiber, Glass, Jewelry, Mixed Media, Stone, Other
Artist Benefits
· Free booth space ($50 Single Day Concession Permit required to sell on City property)
· Onsite Security
· Welcome goody bag with free snacks for each artist
· Free nearby parking for artists
· Opportunity to share artist techniques through scheduled demonstrations
· Booth sitters to assist during artist breaks/demonstrations
· Artist list on Dougherty website for promotion
· No percentage collected; artist keeps sales
· Event advertising and promotion
· Free public admission
Artist Schedule
· Application available: January 1, 2020
· Application deadline: March 1, 2020
· Artist notification: March 16, 2020
· Invitation acceptance deadline: March 31, 2020
· Wait list contacted to fill vacancies begins: April 7, 2020
· Vendor Permit acquisition deadline: April 27, 2020
· Artist check-in, setup at event: 10-11:30am, May 23, 2020
Artist Fees
$50 Single Day Concession Permit must be acquired from the Austin Parks and Recreation Special Events Office upon artist acceptance to festival. The Dougherty Arts Center will provide instructions for obtaining the permit. A Texas Sales Tax Permit is required to obtain the Single Day Concession Permit. Artists who do not obtain a Single Day Concession Permit will not be eligible to exhibit.
Application Process
Artists may apply at doughertyartscenter.submittable.com/submit and should have the following items ready:
· A short description (3-5 sentences) about you and your work, including materials and techniques.
· Five (5) images of your work showing the medium and quality of the work you intend to display. Images should be 300dpi and at least 1600 pixels on the longest side. Images may be used for promotional purposes in print and online.
· Booth Preference: booth spaces will be available as exterior 10'x10' full, 10'x10' shared (approximately 5'x10'), and interior 4'x6'.
Selection Process
Applications are reviewed and selected based on quality, content, and how the work represents or speaks to Austin audiences. Final selection is approved by the Dougherty Arts Center management to produce a festival diverse in mediums and subject matter.
Rules/Regulations
· Artists must be present during the entire event and must personally staff their booth space. Volunteer booth sitters will be available to cover for artists during short breaks and demonstrations.
· All artwork in every category must be the original, handcrafted creation of the approved artist; no kits, mass-produced or manufactured items accepted (print reproductions are acceptable). Artwork exhibited must match the quality and style of work as represented in the jury process. The Dougherty Arts Center reserves the right to refuse display of work that is not consistent with submitted images.
· Artists chosen to participate are responsible for collecting and paying applicable taxes for all sales made at the event. Artists must have sales tax permit certificate on hand during the festival.
· Artists must comply with all staff and security regarding safety and regulations. Vehicles must be parked only in designated areas; non-compliance will result in elimination from consideration for any future shows.
· Artists may not occupy space outside their assigned booth space.
· The Dougherty Arts Center may use selected artist images for festival advertising.
· This event is a family-oriented event. Artwork intended for mature audiences will not be considered. On-site representatives will be enforcing this policy throughout the show.
Booth Information
· Booth spaces are available as exterior 10'x10', exterior 10'x10' shared (approximately 5'x10'), and interior 4'x6' spaces.
· Booth spaces are assigned by the Dougherty Arts Center staff and are not interchangeable and may not be transferred or traded. Booth preferences will be taken into considerations, but are not guaranteed.
· If issued an exterior space, artists must provide their own white 10'x10' tent and weights (no stakes allowed).
· Artists must keep all displays and items (including storage) contained to their issued space. There will be no extra storage outside of your booth.
· Artists must supply all display materials, screens, chairs, tables, etc. Displays must be professional and aesthetically pleasing. Tables may be available upon request for interior 4'x6' spaces (limited quantity).
· If issued a shared 10'x10' exterior booth, artists will be given the contact information of their booth partner and are responsible for connecting with their partner to plan for your booth set-up together.
Demonstrations
Artist demonstrations will take place throughout the festival. If you would like to demonstrate your techniques, please indicate so on your application and provide a brief description of what you will be demonstrating. Artists are responsible for all supplies needed for demonstrations.
Family Art Activities
The Dougherty will have an area with family friendly art activities for the public. If you would like to provide an art activity, please indicate so on your application and provide a brief description and list of materials. The Dougherty will provide all supplies needed for the family art activities.
Artist Check-in and Setup
Artist check-in and setup will take place between 10-11:30am on the day of the festival.
Event staff will greet you as you arrive, provide you an artists' packet and direct you to your booth location. The artists' packet will include your name badge, booth number, and parking pass. Please wear your name badge during festival hours. Place your parking pass on the dashboard of your vehicle (no vehicle will be allowed in the designated vendor parking area without a parking pass).
Artists must be completely set up for the festival opening at 12pm.
Security will be provided, but the Dougherty Arts Center is not responsible for any damage or loss of work or equipment and supplies due to theft, weather, etc.
Inclement Weather
Art-O-Rama does not have an inclement weather date. The event will go on as planned even in rainy or inclement weather conditions. The Dougherty Arts Center reserves the right to cancel the event if necessary due to unsafe conditions. For weather cancellation information, call 512-974-4000.
Artists should anticipate inclement weather and bring rain covers, tie-downs and weights.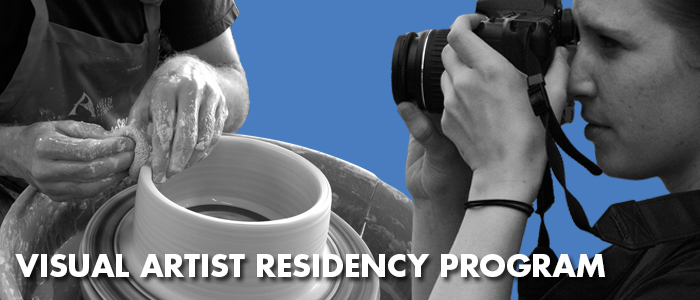 *Please note that the residency schedule and terms have been updated from previous calls. Residency calls will now happen once a year and residents can renew for up to two years.
The Dougherty Arts Center is now accepting applications for both established and emerging artists in ceramics and darkroom for our Visual Artist Residency - Volunteer Work Exchange Program.

The deadline to apply for this work-exchange position is Sunday, March 1, 2020 at 11:59pm.

The Dougherty Arts Center (DAC) is an award-winning cultural arts center that offers a variety of visual, performing and digital arts experiences for a broad audience through its three programs - the Dougherty Arts Center Theater, the Julia C. Butridge Gallery and the Dougherty Arts School.
The Visual Artist Residency - Volunteer Work-Exchange Mission
The Visual Artist Residency Program strives to provide visual artists with the space, facilities, time, and professional interaction that will foster and further develop their ideas, skills, abilities, and focus as practicing artists. The Visual Artist Residency Program will nurture the development of the studio's creative environment for DAC students. This is a work exchange program where resident artists are expected to create outreach opportunities within our community such as teaching workshops, giving public presentations, critiques, and monitoring our independent study program and open studio hours. Residency term is six months, renewable up to a total of two years.

There are two levels of the Visual Artist Residency; Emerging Artist and Established Artist.

Emerging Artist
Emerging Visual Artist Residencies are available to promising artists in their foundational years that are committed to advancing their own work and exploring a potential professional career. We encourage applicants who would like to make art and creativity a continuing part of their lives, even if they have not pursued it in a post-secondary institutional setting.

Established Artist
Established Visual Artist Residencies recognize and support artists whose work demonstrates exceptional artistic merit, who have already proven their abilities, and are at a career stage that is beyond emerging. Ideal applicants have experience with studio operations, have developed a body of work and need the time and space to further develop as a professional artist, and have a desire to share their knowledge with the community.


Goals of the Visual Artist Residency Program
1. Support visual artists as they engage in meaningful work.
2. Support the visual arts as an integral component of a vibrant community and thriving economy.
3. Forge and sustain partnerships and creative collaborations within the community.
4. Foster sustainable growth and development of the creative community.
5. Support visual artists in developing their body of artwork as well as a career in the arts through opportunities for education, exhibition, and leadership.
6. Enhance the presentation of, and diversity within, emerging and established visual artists in Austin.


Eligibility
Emerging Artist Eligibility:
1. Applicants must be visual artists over 18 years old who live in the Austin area (within Bastrop, Blanco, Burnet, Caldwell, Hays, Travis or Williamson counties).
2. Applicants may not be a current City of Austin employee, contractor, or vendor; or become one during the Visual Artist Residency.
3. Applicants must agree to and clear a Criminal Background Investigation (CBI) if selected as the top candidate.
4. Applicants must be CPR/first aid/AED certified, or agree to obtain certification within 30 days of the Visual Artist Residency start date if selected as the top candidate.
5. A college degree is NOT required to apply for this Visual Artist Residency.
6. Documentation of experience within the field of application must be provided through the Artist's Résumé and/or Letters of Recommendation.
7. Current Visual Artist Residency recipients may not apply again until two years after the end date of their award.

Established Artist Eligibility:
Includes the above requirements and the below preferred qualifications:
1. Applicant has received a college degree within the field of application.
2. Applicant has experience with studio operations within field of application (loading/firing kilns, mixing darkroom chemicals, etc.).
3. Applicant has previous experience with Community Engagement and/or leading workshops or classes.
4. Applicant has current representation through galleries, publications, etc.


Benefits
Shared studio space, accessible during building hours with designated storage. Working during scheduled classes is allowed, provided that registered students have priority for space and equipment.
Materials stipend: Emerging Artist - $100 per six-month term, Established Artist - $200 per six-month term
Representation on the Dougherty's website and marketing including newsletters and social media
Art Exhibition in one of the Dougherty's gallery spaces
Access to the Dougherty's computer lab and Adobe Creative Cloud, including assistance from our Digital Arts Instructor during lab hours
Ceramics Specific Benefits
Studio glazes and firing are covered under the residency. There is unlimited firing in electric kilns, limited raku firing when a trained Instructor or Ceramics Technician is present, and limited firing in the Cone 10 gas kiln. Dougherty Arts Center student work is always first priority.

DAC Ceramics Studio is 1400 sq. ft. providing 12 Brent wheels (including standup and reverse options), 8 Shimpo Aspire wheels, slab rollers, extruder, molds, cone 10 and raku studio glazes, 2 Skutt 1227 electric kilns, Skutt 822 electric kiln, raku kiln, and a gas reduction kiln.

Darkroom
Residency includes access to all darkroom equipment and provided chemistry.
DAC Darkroom allows black and white printing with fiber or RC paper up to 16"x20", and film development. Equipment includes 5 Omega D2 enlargers, ability to print 35mm through 4x5, 1 Super Chromega D enlarger, film dryer, and light table.


Artist Commitment and Responsibilities
The Dougherty Visual Artist Residency is a work exchange program. Residents agree to work approximately 8-12 hours per week at regularly scheduled times. Duties include:
Monitoring Independent Study or Open Studio hours
Assisting Instructors or DAC staff as required
Physical ability to complete tasks including loading and unloading kilns with reasonable accommodations
General studio upkeep as assigned
Assisting with workshops
Working in an open studio setting where the public is able to interact with the artist during public hours
Working independently yet cooperatively in a professional studio setting while maintaining self-motivation
Established Artist Responsibilities
Above responsibilities and:
Teach one three-hour workshop per six month residency term
Mentor DAC Emerging Artist Resident(s)
Offer time to lead critiques during open studio

Terms of Residency
The Visual Artist Residency term is six months, renewable up to a total of two years. An evaluation will be performed at three months to ensure residency requirements are being met, and another evaluation will occur at five months to determine if the residency is renewable for an additional six-month term. This evaluation process will be repeated for each additional six-month term.

The Artist Residency Program is not a funding program. Beyond a materials stipend, the Residency does NOT provide financial or domestic support including transportation, food/meals, or living quarters.


Schedule and Application Process
Residencies begin in June. Below is the schedule for the application process.
Applications Open: January 1, 2020
Applications Due: March 1, 2020
Notifications: April 1, 2020
Residency Start Date: June 1, 2020 (tentative)
To apply, submit the following:
Letter of Interest describing your need, how you plan to use the time and space to further your work, and how a residency will affect your practice (maximum of one page, formatted as a PDF)
Community Essay describing your readiness to engage with the DAC community and how you believe your involvement can impact the Austin community (maximum of one page, formatted as a PDF)
Artist Résumé (maximum of two pages, formatted as a PDF)
Artist Bio (2-10 sentences, formatted as a PDF)
Artist Statement summarizing your practice including medium(s), themes, techniques, and influences (maximum of one page, formatted as a PDF)
Two Letters of Recommendation (Your references' email addresses are all that is needed for your application. Submittable will send them a link to upload a reference letter)
Ten Digital Images of your work including the title, medium, size, and date
Workshop Proposal (if applying for Established Artist Residency) including a description and student goals and objectives (maximum of one page, formatted as a PDF)
Evaluation Criteria
Applications will be reviewed according to the below criteria. Each of the submitted items will be reviewed and used to score the criteria on a scale from 1 to 10 (1=lowest score, 10=highest score). The following four criteria points total a maximum of 100 points.
Artist Need
Community Involvement and Impact
Experience
Artistic Merit
Review Process
Applications are reviewed by a different panel of judges each residency term (names are not disclosed). Judges are comprised of objective and knowledgeable arts professionals, arts administrators, educators and community members. Panelists are directed to score the application according to the established criteria, making significant contributions of expertise and time to assure that resources are wisely and fairly allocated. Panelists will score applications individually in accordance with established evaluation criteria. Following the panel recommendation, DAC staff will make the final applicant selection. This process may include an in-person interview between DAC staff and the applicant.
Implementation
Following the applicant selection and approval from DAC Management, the selected applicant will be notified via email. Once the residency is accepted, the City will enter into an agreement with the applicant. The agreement will establish procedures and responsibilities for both the City and the resident.
Accessibility
The City of Austin is committed to compliance with the Americans with Disabilities Act. Reasonable modifications and equal access to communications will be provided upon request. For assistance please contact (512) 974-3914 or Relay Texas 7-1-1.

The Julia C. Butridge Gallery is now accepting Exhibit Proposals for 2021.
The deadline to apply for an exhibit is February 16, 2020.


The Julia C. Butridge Gallery (JCB Gallery) is located in the Dougherty Arts Center, a multi-cultural community arts center with a 150 seat theater, youth and adult arts school, and the gallery's 2600 square feet of exhibit area in one central and two adjacent spaces all with a track lighting system. Located in the heart of the arts district adjacent to the Long Center and Butler Park, the Dougherty is a facility of the Parks and Recreation Department, providing personal and professional development opportunities for citizens through the making and sharing of creative arts.
Audiences and participants of the Dougherty cross disciplines, backgrounds, and levels of exposure to various arts experiences. We are proud to support emerging through professional artists. This collision of creative activity contributes to the Dougherty's long reputation among the arts community as an accessible and nurturing venue and incubator. Our audiences know us for the diversity of work that has made this center Austin's oldest neighborhood arts center with an inspiring skyline and a lively arts environment.



How to Apply for the JCB Gallery 2021 Season:


Submit your application by the deadline of February 16, 2021. Please scroll down to view application. The online application includes:



1. An Exhibit Description.

2. Artist(s) Statement relating to the body of work to be exhibited

3. Digital Images: Please name files with artist name and a number. John Smith_1.jpg

Individual artists must submit 10 – 20 Digital Images of artwork completed in the past 5 years.
Small groups of up to 6 collaborating artists must submit 5 – 8 Digital Images by each participating artist of work completed in the past 5 years.
Organizations and larger groups must submit 2 - 5 Digital Images by each participating artist of work completed in the past 5 years.
4. Complete Image List of all artworks submitted. Please include image file number, artist name, title of piece, year created, medium and dimensions of all images uploaded.


Frequently Asked Questions:

How often do the exhibits change?
The Julia C. Butridge Gallery strives to provide as many opportunities for artists to exhibit as we can accommodate. To achieve that goal, our exhibits change every 4-8 weeks. Length of exhibits are determined by exhibit space and the scheduling and/or occurrence of other events that affect the gallery.
How are the exhibits selected?
Applications are carefully reviewed by a different panel of jurors each year (names are not disclosed) to promote a balanced season. Applicants are not guaranteed a slot. Final gallery selections and programming are approved by the Dougherty Arts Center Management. The criteria used by the panel is broad. Jurors rate applications on criteria such as quality, content, and how the work represents or speaks to Austin audiences. Additional criteria is taken into consideration by Dougherty Arts Center Management, such as showing strong and relevant themes, creating a season diverse in mediums, subject matter, artists and/or collaborations, and with the exception of our education partners, how recently the artist(s) exhibited in the JCB Gallery.
How often may an artist apply and/or exhibit?
An artist may apply each year that a Call for Exhibits is opened, however, priority consideration will be given to artists who have NOT exhibited in the gallery within the last 5 years of the season for which applications are currently being accepted.
What restrictions are there for works of art?
Few restrictions are placed on the specific work selected. However, during months with high volume of activities for children, we schedule work that is more appropriate for audiences of all ages. Graphic subject matter will not be selected.
Can works of art in the exhibit be sold to the public?
Artists may sell work directly to the public unless they are a City of Austin employee. The Julia C. Butridge Gallery does not take a commission, and the Dougherty staff does not handle purchases for the artists.
Who is responsible for hanging the exhibit?
Once offered a spot on the season, exhibiting artists install and help promote their own exhibit. Artists provide all their own hardware and tools, and install the work. The Dougherty Art Center staff will prepare the walls between exhibits, guide artists through specific installation standards and policies, and will focus the lighting.
Is the artwork insured while it is at the JCB Gallery?
Exhibits are afforded property insurance coverage under the Fine-Arts Floater on the City of Austin property insurance policy. The City of Austin is not liable for any damage in an amount falling below the deductible. The artist is responsible for obtaining Commercial General Liability and Host Liquor Liability Insurance for installation, deinstallation and related events if determined necessary.
Will the JCB Gallery provide marketing?
Artists are responsible for promoting their own exhibit, however the JCB Gallery includes descriptions and some images of exhibits in Dougherty Arts Center marketing, which may include a website, brochure, newsletters, calendar listings, social media, or other outlets as available.
How do I apply to have an exhibit?
Applications and images will be accepted on submittable.com Applications are due February 16, 2020 for consideration in the 2021 season.
When will I know if my exhibit is selected?
Applicants will be notified by March 16, 2020 for the 2021 season.

Who can I contact if I have any questions?
Contact the Collections Assistant & Preparator at JCBGallery@austintexas.gov



Incomplete applications will not be considered.
Click submit and scroll down to view form.